Our Board Members
Dr. John W. Pappalardo, Chair - Superintendent, San Gabriel Unified School District
Dr. John W. Pappalardo, Superintendent, was appointed by the Board of Education of San Gabriel Unified School District on July 14.

Dr. Pappalardo most recently served prior to becoming Superintendent, for six years as the Chief Finance and Facilities Officer in the Pasadena Unified School District. He was the staff lead on the Board committee for Master Planning, Finance and Facilities and led the two-year community committee for Sub-Geographic Board Boundary Elections, and the Citizen's Oversight Committee for the $350 million bond Measure TT.

Previously, Dr. Pappalardo served in the San Gabriel USD from 1996 through 2009, first as Assistant Superintendent of Business Services, then Deputy Superintendent and Superintendent Designee. He oversaw all business, facilities, and operations functions, participated in collective bargaining negotiations, and served as Co-Chairman for the Arts and Enrichment Strategic Action Plan Committee.

Prior to his service in San Gabriel, Dr. Pappalardo was Business Service Manager and Director of Data Processing for the Fullerton Joint Union HSD. Since 2302, he has taught master's level fiscal resource management courses at the University of La Verne and California State University, Los Angeles as a component of the Tier I Administrative Credentialing program.

Dr. Papalardo is a life-long resident of the San Gabriel Valley. He has his Doctor of Education from the University of La Verne, a Master of Science in Management Science from Cal State Fullerton, a Bachelor of Science from Citrus Community College.
He and his wife Jennifer, along with their three children, Lindsay, John and James, live in Glendora, CA.

Dr. Carol Hansen, Vice Chairman - Superintendent, Ocean View School District
The Ocean View School District Board of Trustees named Dr. Carol Hansen as Superintendent on July 7, 2015, concluding an extensive search process for the top position.

Dr. Hansen, who is now in her 30th year as a public educator, oversees the K-8 district of more than 8,800 students. "It is an honor to have this opportunity to serve as Ocean View's Superintendent," said Dr. Hansen. "I look forward to engaging with students, parents,staff, and community members in this important work. I sought out this particular position because the needs of the District closely align with the kind of work that I wish to do as a school leader."

She comes to OVSD from her most recent position as the Assistant Superintendent for Human Resources in the ABC Unified School District in Cerritos. In this capacity, she provided oversight of all personnel functions and served as the chief negotiator for ABC USD, which had three active employee unions. Dr.Hansen also served for three years as the President of the Association of California School Administrators' (ACSA) State Human Resources Council. In 2011, she was named as ACSA's State Administrator of the Year for Human Resources.

Her professional experiences are deeply rooted in Southern California, as she served as: a middle schoolteacher in Rowland Heights; a teacher, coach and activities director in Long Beach Unified School District; and an assistant principal and principal in Westminster School District. In 2004, she transitioned to Director of Classified Personnel and then Assistant Superintendent for Personnel Services for Westminster School District.

The common threads running throughout Dr. Hansen's career, in addition to her commitment to education, are effective leadership and collaboration. In each of her professional roles, she has worked diligently to engage many different audiences, to link stakeholders in the community and within her organizations, and to create lasting and constructive programs within her field.

Dr. Hansen is married and lives in Long Beach. She is a native Californian, growing up, attending school and living in Long Beach her entire life. She enjoys spending time outdoors and swimming in her free time.

"The coming year is going to be very exciting for Ocean View School District," said Dr. Hansen. "We are moving ahead, with our students and strong academic curriculum as our top priorities."
Mr. Paul Johnson, Treasurer - Superintendent Mill Valley School District
Paul Johnson has been a California educator for 31 years and is currently in his seventh year as superintendent of the Mill Valley School District, a district located 7 miles south of the Golden Gate Bridge in Marin County.

His overall experience includes 17 years as a superintendent in three districts (South Bay Union, Loomis USD, Mill Valley), district administrative work in both urban and rural settings, and elementary and secondary site administrative work. Paul began his career teaching for the Jurupa School District in Riverside County in 1987.

He has a B.S. in education from Brigham Young University and M.A. from Azusa Pacific University.

Dr. Mary Ann Dewan - Superintendent, Santa Clara County of Education
Dr. Dewan is the County Superintendent for Santa Clara County. She is recognized for her expertise and experience in early learning, data driven decision-making, special education, education reform, change leadership and her commitment to serve community. Dr. Dewan is passionate about diversity, inclusion, equity and social justice. Her leadership is driven by a commitment to ensure that all youth have quality educational opportunities. Dr. Dewan has gained experience through serving as Deputy Superintendent, Chief Schools Officer, Assistant Superintendent, Executive Director, Director of Special Education, principal and teacher. She has served in education for 30 years.
Dr. Karen Janney - Superintendent, Sweetwater Union High School District
Dr. Janney is the Superintendent of Sweetwater Union High School District.  With over 37 years of secondary teaching and administrative experience, she brings a demonstrated record for creating and sustaining dynamic organizational capacity and educational equity.

Most recently, she served as an Executive Coach for the National Center for Urban School Transformation (NCUST) and since 2005, she has been a Lecturer and Supervisor in the San Diego State University (SDSU) Educational Leadership Department.

Dr. Janney is a graduate of Bonita Vista High School in the Sweetwater District where she also served as a teacher, Assistant Principal, Principal and Assistant Superintendent in Sweetwater schools.

She has been active in numerous civic and professional organizations during her career, including the California Association of School Business Officers (CASBO), the Association of California School Administrators (ACSA), the National Association of Secondary School Principals (NASSP) and several others.

Dr. Janney has been recognized for her work on numerous occasions including being named a Tribute to Women in Industry (TWIN) award winner, the ACSA State Secondary Principal of the Year, the California League of High School Region 9 Educator of the Year and a two-time Sweetwater Union High School District Administrator of the Year.
Mr. Edward Knudson - Superintendent/President, Antelope Valley College
As a Vietnam-era Army veteran, Knudson's 30 years of management experience includes four
years as a non-commissioned officer in the Army, 10 years in the hospitality industry and 15 years in higher education. His classroom experience dates back to 1989 when he began teaching in the College of Business at Oregon State University. He has since served on faculty at the University of Georgia, Western Oregon University, and community colleges. He began full-time service in community colleges in 1993 as a faculty member in Business Management and Economics at Linn-Benton Community College in Albany, Oregon. Mr. Knudson came to Antelope Valley College in June of 2013 and is serving as the Superintendent/President.
It was at Linn-Benton where Knudson made the transition into education management, serving
as a department chair of business management and later as division director of business and computer systems. In 2002, he accepted a position as dean of economic and workforce development at Bakersfield College. He was appointed vice president of academic affairs at Bakersfield College in 2006. He accepted a position as executive vice president at Moorpark College in 2009, where he served until 2011. Knudson earned both a bachelor's degree and a master's degree from Oregon State University.
Ms. Lillian Maldonado-French - Superintendent, Mountain View School District
Ms. Maldonado-French became Superintendent of the Mountain View School District in July 2009, after serving four years as Superintendent of Los Nietos School District. Prior to becoming Superintendent, she had served as Director of Instructional Services in Los Nietos, and held several positions in Santa Ana USD, moving from bilingual teacher, to curriculum specialist, to site administrator and finally Director of Curriculum and Staff Development in that district.
Mr. Brett McFadden - Superintendent, Nevada Joint Union School District
Brett W. McFadden was unanimously appointed superintendent for the Nevada Joint Union High School District effective July 1, 2018. He brings more than 23 years of education policy and leadership experience to the district, and is particularly recognized for his expertise in school finance, governance, and effective administration and leadership of TK-Adult Instructional programs. Brett previously served as the associate superintendent in the Monterey Peninsula Unified School District, overseeing the Business Services Division and also played a key leadership role in the development and operation of the district. Previously, Mr. McFadden was the Chief Business Officer for the Pajaro Valley USD. For ACSA, Mr. McFadden served as Director of Management Services for 10 Years, providing consultation and expertise on fiscal and operational services, and negotiations to more than 220 education agencies statewide. Brett has a BA in Political Science from CSULB and a MA in public administration from University of Arizona.
He is certified as a CBO by CASBO.
Dr. Adrian E. Palazuelos - Superintendent, Fillmore Unified School District
Dr. Palazuelos joined the Fillmore Unified School District in July 2014.

He began his career as a classroom teacher in the Hueneme School District in Port Hueneme, California. His leadership roles include Middle School Assistant Principal, Elementary Principal, Middle School Principal, and High School Principal. Prior to joining Fillmore Unified he was the Associate Superintendent of School Leadership and Support in the Natomas Unified School District.

Dr. Palazuelos received a Bachelor Degree from the University of California at Irvine, Master of Education degree from the University of California at Los Angeles, and a Master of Arts and Ph.D. from the University of California at Santa Barbara.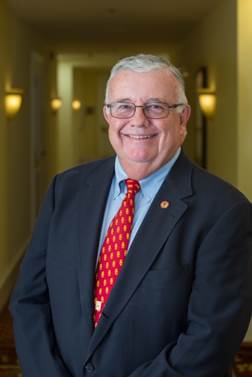 John A. Roach, Ed.D - Executive Director, SEAC
Dr. Roach is the Executive Director of School Employers Association of California.
John is the former Executive Director of the National Association of School Superintendents. He served 14 years as a District Superintendent; six in Charter Oak Unified and eight in Carlsbad Unified.
Dr. Roach is a professor at the Rossier School of Education at the University of Southern California where he teaches courses in Leadership, Governance, Instructional Leadership and Accountability.
Since retiring from Carlsbad in 2012 John has coached Superintendents, served as Interim Superintendent and Assistant Superintendent, served as an expert witness, led Superintendent searches and served as a consultant to several educational solution providers.
Prior to serving as Superintendent, he was an elementary teacher, elementary, middle and high school administrator, Director of Curriculum and Staff Development, Assistant Superintendent of Ed. Services, Human Resources, and Business Services. In addition to those roles he served as the lead negotiator in Brea-Olinda, East Whittier, Charter Oak and Carlsbad. In retirement he has been at the table in Rowland, Capistrano and Hollister.
He completed his doctorate at USC where his research focused on Trust and Collective Bargaining. He has a BA and an MA from LMU.
If he isn't here in the SEAC office, when you reach him on his cell, he is either playing mediocre golf, walking at the beach, reading, or watching a game.